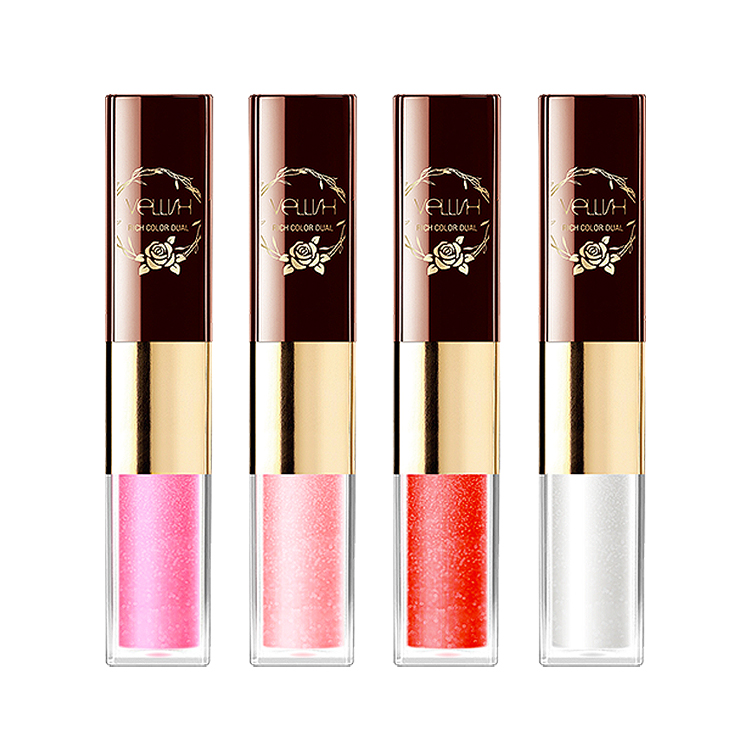 VELLISH RICH COLOR DUAL LIPSTICK & LIPGLOSS
Price inquiry(see details)
VELLISH RICH COLOR DUAL LIPSTICK & LIPGLOSS
The combination of premium colored lipstick and lip gloss makes the lips look attractive and beautiful.
---
| | | | |
| --- | --- | --- | --- |
| | No.1 Cherry Pink | | No.2 Coral Pink |
| | No. 3 Royal Red | | No.4 Passion Red |
---
lipstick 3.5g
lip gloss 3.0g
Details of Product
Key Materials
Tocopheryl acetate

It delays inflammation and damage of the skin and has excellent antioxidant properties. It also protects the skin's lipid balance and prevents moisture from falling in the skin with its effect of reducing moisture.

Macadamia oil

It is a vegetable oil that contains more than 60 percent of oleic acid, a single unsaturated fatty acid, and 14 to 22 % of Palmitoleic acid, a major ingredient in the skin's protective skin by antibacterial action. It is quickly absorbed into the skin without being light and sticky, and is available for all skin types.

Pearl powder

A protein component rich in amino acids and peptides. Pearl Conchiolin increases skin affinity and helps protect skin and maintain moisture.

Theobroma Grandiflorum Seed Butter

Theobroma Grandiflorum is well-known for its excellent antioxidant effect Polyphenols, vitamins and minerals are abundant. Because of these ingredients, it kills free radicals, which are the main causes of aging. It also has excellent moisture retention and helps skin regeneration and beauty.
* Raw material properties only
Manufacturer

Hwajin Bio Cosmetic Co., Ltd. / 36-16, Seangmyeonggwahakgwan-gil, Hongcheon-eup, Hongcheon-gun, Gangwon-do

Distributor

Hwajin Cosmetics Co., Ltd. / 9Fl., 246, Dangsan-ro, Yeongdeungpo-gu, Seoul, Republic of Korea

Country of Manufacture

Republic of Korea

Capacity

Lipstick 3.5 g / Lip Gloss 3.0 g

Precautions

1) When using cosmetics or after use, consult with a specialist if there is any abnormal symptom or side effect such as red spot, swelling or itching by direct sunlight
2) Do not use in wounded areas
3) Precautions for storage and handling
- Keep out of the reach of children
- Keep away from direct sunlight