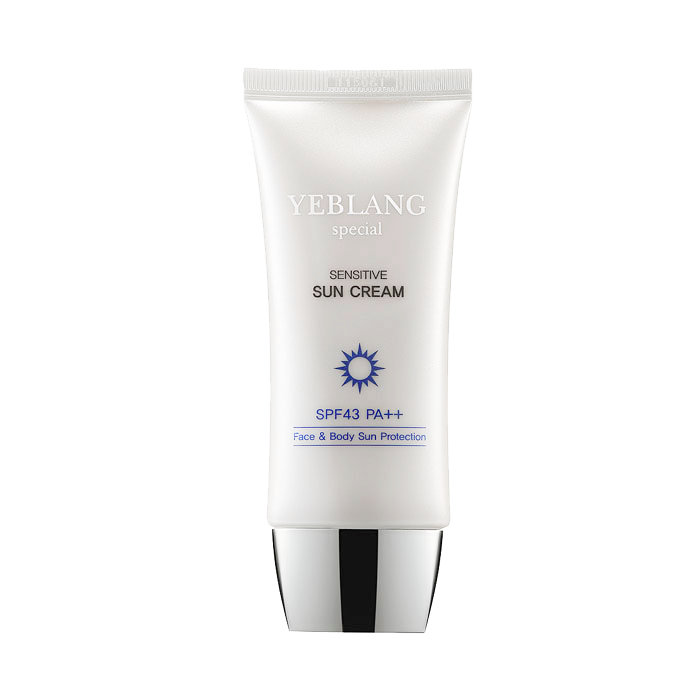 YEBLANG SPECIAL SENSITIVE SUNCREAM
Price inquiry(see details)
It is a light and refreshing UV protection sunscreen which is available all year around.
---
50 g UV Protection functional cosmetics SPF43 PA++
Details of Product
It can be used anywhere in four seasons and contains plant protection to keep the skin healthy.



Light and fresh application reduces stress on the skin, it does not have burden on the skin,
and it is possible to express natural skin without whitening.
Texture type
sticky test
Main Ingredients
7 herbal extracts

Helps to protect skin and minimize skin irritation by containing 7 kinds of plant extracts such as mild irritation, soothing, moisturizing, and so on (cinnabar, rosemary, golden, green tea, licorice, rosemary and chamomile)

Kupuaku butter

It has a high moisturizing effect, giving a moisturizing and flexible membrane to the skin to make the skin healthy.

Licorice Powder

It protects the skin from external environment and makes it healthy skin.

Vitamin E derivative (tocopheryl acetate)

It is a component derived from natural tocopherol. It helps prevent the oxidation of unsaturated fatty acids in the phospholipid, which is a constituent of the cell membrane, and maintains excellent moisturizing power.
* Only for raw material characteristics
Manufacturer

Hwajin Bio Cosmetic Co., Ltd. / 36-16, Seangmyeonggwahakgwan-gil, Hongcheon-eup, Hongcheon-gun, Gangwon-do

Distributor and Manufacturer

Hwajin Cosmetics Co., Ltd. / 9Fl., 246, Dangsan-ro, Yeongdeungpo-gu, Seoul, Republic of Korea

Country of Manufacture

Republic of Korea

Directions for use

Take an appropriate amount of this product and spread evenly on the skin.

Precautions

1) When using cosmetics or after use, consult with a specialist if there is any abnormal symptom or side effect such as red spot, swelling or itching by direct sunlight.
2) Do not use in wounded areas.
3) Precautions for storage and handling
A) Keep out of the reach of children
B) Keep away from direct sunlight.
4)The UV blocking index of this product was measured according to the method of measuring the UV blocking index in Europe (Cosmetics Europe) and the UV blocking degree according to the measuring method of UV blocking effect in Japan (JCIA)
5) If the product is applied to the skin and does not absorb sufficiently, it may cause discoloration of clothing.
6) Do not store in hot or cold places