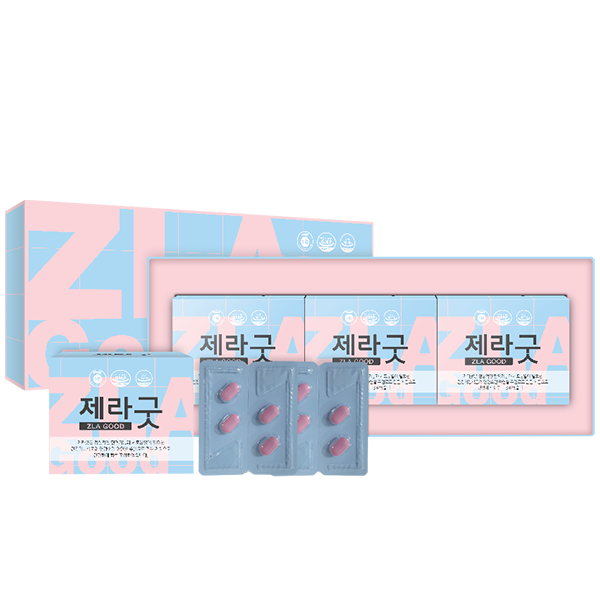 ZLA GOOD
Price inquiry(see details)
ZLA GOOD
It is an easy-to-carry form of health functional food that is wrapped in daily intake of zinc as a main ingredient.
It can help with normal immune function and normal cell division.
[Feature Information]
Necessary for normal immune function
Need for normal cell division
Twice a day once 90g(500mg X 2tablets)
Health Functional Food
Details of Product
Nutrition. functional information
Daily intake

content

% Nutrition Facts Standard

Daily intake

Calories

7.5Kcal

-
(500mg * 4 tablets)(2,000mg)

carbohydrate

1.3g

0.4%

protein

0.5g

0.9%

fat

0g

0.%

sodium

0mg

0%

functional ingredient or feed ingredient

zinc 2.56mg

% Nutrition Facts Standard: 1 day Nutrition Factor
※This product is not intended for the prevention and treatment of diseases.
Raw material and content
Magnesium stearate, magnesium stearate, vitamin C, taurine, silicon dioxide, titanium dioxide, titanium dioxide (synthetic coloring matter), zinc oxide, L arginine, maca extract powder, crystalline cellulose, fructooligosaccharide, powdered crystalline glucose, magnesium oxide, hydroxypropylmethylcellulose, magnesium stearate, ), Manganese sulfate, glycerin fatty acid ester
Capacity
90g (500mg x 60 tablets x 3 cases)
Preservation and Expiration date
Avoid direct sunlight and store in a cool place.
ingestion method
Twice a day / once (500mg * 2 tablets) / ingestion with drinking water
Notes on ingestion
- Allergies such as abnormal sperm intake and excessive intake Please check the ingredients and intake.
- When ingested, abnormal symptoms such as gastrointestinal disorder, indigestion If you do, stop taking it.
Feature Information
Necessary for normal immune function
Need for normal cell division