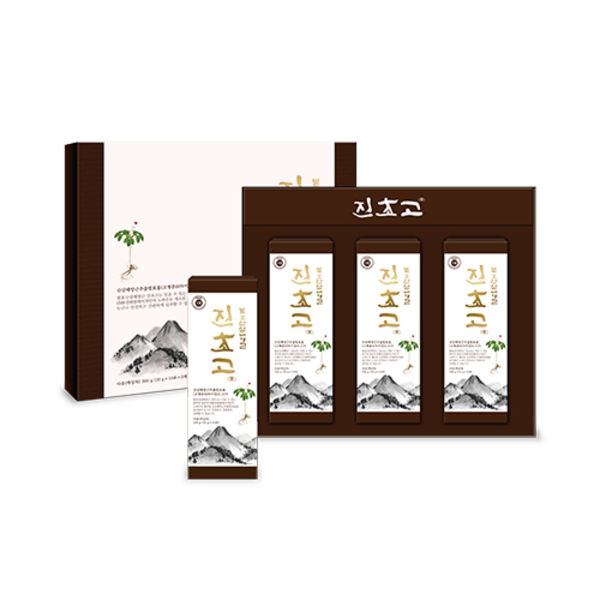 Details of Product
Product Line - Fermented Wild Ginseng Adventi


FERMENTED WILD GINSENG ROOTS JINCHOGO
FERMENTED PRODUCT EXTRACTED FROM WILD GINSENG ADVENTITIOUS ROOT GINCHOGO
Fermented wild ginseng adventitious root extract
Definition of (liquid) tea
It refers to a syrup or liquid form of the food that is processed (extract, concentrate, or powder), processed by methods such as extraction with the main raw material of vegetable, or food or food additives added to it.

"Fermented product extracted from wild ginseng adventitious root" extracts and concentrates the reliable ingredients of medicinal herbs such as rehmannia glutinosa, angelica gigas, poria cocos, peony, pine needles are extracted, concentrated, and it can be easily ingested by adding the fermented product of the ginseng cultivation root produced by the Hwajin N&H's own know-how, such as red ginseng concentrate honey.
Selected raw materials (thorough inspection management)
Washing raw materials (Manual Selection Step 3)
Rational arrangement (solid process management)
The latest automatic equipment (currently automated facilities)
Hygienic production management (personal hygiene and thorough hygiene)
Strict inspection process (Product quality inspection & management)
---
Recommended customers
Students or workers who need to get physical supplement
A decrepit old man
A person who is always tired from chronic fatigue
---
Nutrition. functional information
One dose
Content
%Nutrient standard
1 Serving
Calorific quantity
25Kcal

-



1 Pouch

(10g)

Carbohydrate
6g
2%
Sugar
2g
2%
Protein
0g
0%
Fat
0g

0%
Natrium
11mg
1%

Functional or surface composition:

Ratio to Daily Nutrient Reference

% Nutrient Reference Values : Ratio to Daily Nutrient Reference
---
ingestion method
Please take 1~2 times a day, take 1 pouch daily before or between meals
---
Notes on ingestion
[Preservation and Distribution Standards]
In the case of allergies and abnormalities, please be sure to check the ingredients.
Please be careful when opening or ingesting the product that it may be damaged by the packing material.
[Cautions for ingestion]
Avoid direct sunlight and high temperature and high humidity.
---
Feature Information
General food does not have any functional information.