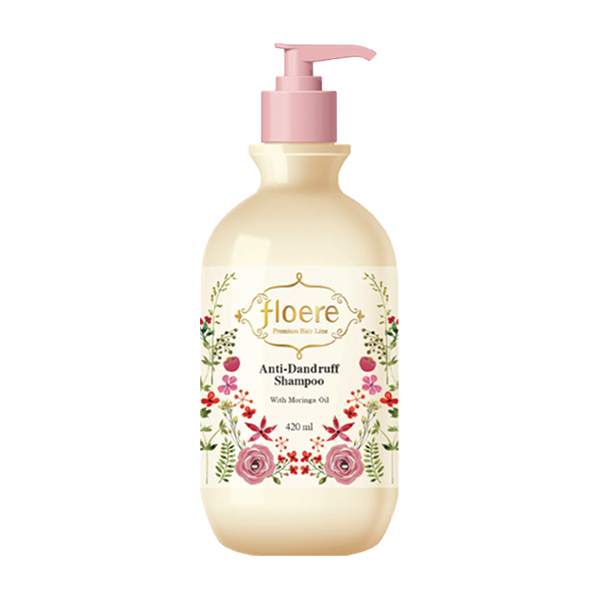 FLOERE ANTI-DANDRUFF SHAMPOO
Price inquiry(see details)
Shampoo for dandruff hair
---
420 g
Details of Product
Helps relieve dandruff with the synergy of two anti-dandruff ingredients.
Protects your scalp, hair and nourishes the hair.
Provides smooth and fine hair without stiffness after use.
Main Ingredients
Zinc Peach Ritchieon, Climbazole

Helps calm the scalp by inhibiting dandruff and relieving itching.

Argan Tincture Oil

Provides rich nutrition to hair, helping to moisturize and soften hair.

Olive Oil

Contains lipids similar to human skin, so it has a high absorption power and makes skin texture healthy.

Panthenol

called Pro Vitamin B5, which helps calms the scalp and keeps hair and scalp healthy.

Hydrolized Keratin

Forms a film on the surface of hair to prevent loss of moisture and helps moisturize hair.
* Only for raw material characteristics
Manufacturer

Hwajin Bio Cosmetic Co., Ltd. / 36-16, Seangmyeonggwahakgwan-gil, Hongcheon-eup, Hongcheon-gun, Gangwon-do

Distributor

Hwajin Cosmetics Co., Ltd. / 9Fl., 246, Dangsan-ro, Yeongdeungpo-gu, Seoul, Republic of Korea

Country of Manufacture

Republic of Korea

Directions for use

After taking a bath or shower, take a proper amount of water and massage it gently.

Precautions

1) When using cosmetics or after use, consult with a specialist if there is any abnormal symptom or side effect such as red spot, swelling or itching by direct sunlight.
2) Do not use in wounded areas.
3) Precautions for storage and handling
A) Keep out of the reach of children
B) Keep away from direct sunlight
4) Shampoo for hair
A) If you get into your eyes, wash it immediately
B) If not washed thoroughly with water after use, it may cause hair loss or discoloration.
5) Do not store in hot or cold places